Ambush Marketing
Introduction
Ambush marketing creates the impression that your business is linked with something when it is not. As the name suggests, ambush marketing involves launching a surprise marketing campaign which attacks another firm's marketing. One of the aim's of ambush marketing is to promote your product for as little cost as possible by disrupting a competitor's marketing campaign. Effective ambush marketing has precision timing and maximum effect at minimal cost to the firm.
The Photo below has an example of ambush marketing where one firm is using another firm's promotion material to promote their own firm.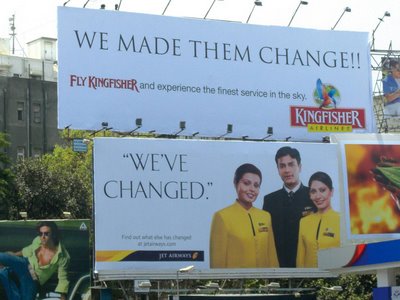 When Is Ambush Marketing Used?
It costs a lot of money to sponsor events that will receive a lot of media publicity for example the Olympics, the football world cup, national events and concerts. Some firms do not have marketing budgets to pay for this type of sponsorship or their application (bid) to sponsor the event may have failed. In such circumstances a firm may be tempted to engage in ambush marketing especially if the event is going to be sponsored by a competitor firm.
Politicians sometimes engage in ambush marketing to disrupt rival candidates election campaigns. This will involve the politician adding an amended version of the rival's promotional material to their own. The altered promotional material will highlight the flaws in the rival's election campaign.
Is Ambush Marketing Risky?
Ambush marketing has the potential to increase the profile of the business it belongs to either through the material used for ambush marketing or through the media attention created by the ambush marketing campaign. It is difficult to predict whether the profile increase will be positive or negative. Consumers may not notice the "ambush" and believe that the company is linked to the event or they could realise that the marketing is unauthorised and form a negative opinion of the business particularly if the ambush marketing disrupts their enjoyment of the event. As with all marketing campaigns before a company engages in ambush marketing they should weigh up the potential benefits against potential negatives. They should also make sure that their ambush marketing campaign will not break any legal rules such as legislation passed to protect events like the Olympics from ambush marketing: see below.