Enterprise Skills
Introduction
If you use initiative and like to get involved with new ventures then you are an enterprising person or entrepreneur. Entrepreneurship takes place in many areas from technology and music through to cookery and broadcasting. Well know entrepreneurs and enterprising businesses include Virgin Group's Richard Branson, Google, Walt Disney, Oprah Winfrey, Microsoft's Bill Gates, celebrity chef Jamie Oliver and Apple's Steve Jobs. However you don't need to be famous to be an entrepreneur, in this article we discuss the different types of enterprise skill.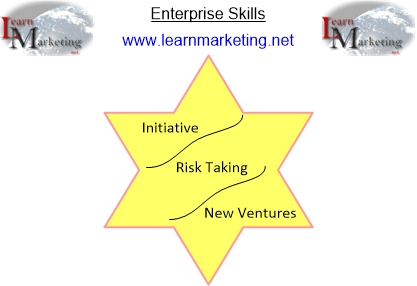 The Diagram above shows the three enterprise skills
Risk Taking
To set up a new business and be entrepreneurial you have to take on a element of risk; you are risking your time and any assets that you choose to invest in the business. This is because there is a probability that the new business idea will fail. However if the new business idea is successful than the risk has paid off. As an entrepreneur you have to decide what level of risk you are willing to take on, this may involve weighing up the level of risk against the benefits of a successful business idea. When assessing whether to pursue a business idea you may decide to use tools such as Kurt Lewin's Force Field Analysis where you can weigh up the reason's for and against a business decision.