Competitor Analysis
Introduction
Any organisation that wishes to succeed in their market, needs to analyse their competitor's strategies. Competitor analysis is a vital part of the marketing planning process. A strong competitor can hinder business success, even lead to business failure. Competitor analysis helps firms to anticipate their competitor's actions and exploit competitor's weaknesses. It also helps firms to identify their unique selling points, so that these can be promoted in marketing campaigns. Competitor analysis is an ongoing task, as successful competitors will continuously develop their marketing strategies, in response to changes in the market place.
The competitor analysis diagram below lists what information to analyse and the types of competitor data to use in your competitor analysis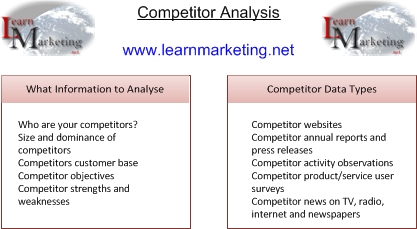 What Competitor Information Shold be Collated?
Who Are Your Competitors?

The firm should decide on which competitors are likely to impact on their business and which businesses the firm will be able to compete with. This will depend on the size of the business and whether it is a national or local business. For example a local shop will not be able to compete with a national supermarket but they may need to take a "mini" branch of a supermarket chain into account if it is located near to the shop. There are a number of models which can be used to identify competitors including Porters Five Forces model.

What Is The Size And Dominance Of Your Competitors Within The Market?

An understanding of the market share each competitor has, will help you identify their size and dominance. It will also reveal whether there is market share available for your business.