Consumer Buying Behaviour
Purchase Process
Introduction
What influences consumers to purchase products or services? The consumer buying process is a complex matter as many internal and external factors have an impact on the buying decisions of consumers.
Consumers do not spend much time thinking about the purchase of low value products which are bought on impulse. Manufacturers of such products will need to implement strategies that encourage consumers to buy on impulse from them instead of their competitors e.g. attractive packaging. When consumers purchase high value products or non impulse products, they often go through a set process. This process is discussed below.
On the next page there is a discussion of what influences consumer buying behaviour and the different types of buying behaviour.
The diagram below maps out the consumer purchase process from when the consumer recognises that they have a reason to make a purchase through to after the purchase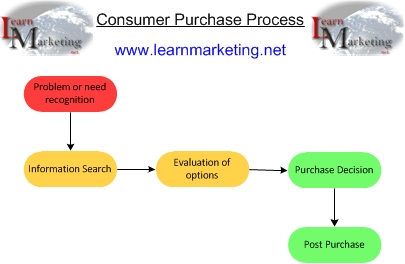 Problem Or Need Recognition
How do you decide which particular product or service to purchase? It could be that your Blu-Ray DVD player stops working and you now have to look for a new one; otherwise you will not be able to play your Blu-Ray films so you have a problem or a new need. This is the first step in the consumer buying process.
Information Search
So we have a problem, our Blu-Ray player no longer works and we need to buy a new one. What is the solution? Go out and purchase a new one, but which brand? Shall we buy the same brand as the one that broke down? Or stay clear of that just in case the new player experiences the same problems as the old one? Consumer often go on an information search to help them choose their product. Sources of information include family, friends, retail staff and in this digital age the internet. The internet contains information about products (specifications), product reviews and online product forums. Information search may involve a visit to a retail store to view products that the consumer is interested in purchasing. In our example the consumer is on an information search to solve an immediate problem; they intend to make a purchase at the end of the process. Consumers also acquire and store information for future purchases. Firms will take such consumers into account when designing their marketing strategies, in the hope that when such a consumer is ready to buy they will use the "stored" information about their product into account and buy their products.