Ethical Marketing
Introduction
Ethical marketing is about making marketing decisions that are morally right. The morality of the marketing decision can encompass any part of marketing including sourcing of raw materials, staff employment and product advertising and pricing. Each person's view of morality is different, it is based on personal values and experiences. This creates a challenge for companies who want to pursue ethical marketing in a manner that will appeal to their target market.
This diagram illustrates the steps you need to take when implementing ethical marketing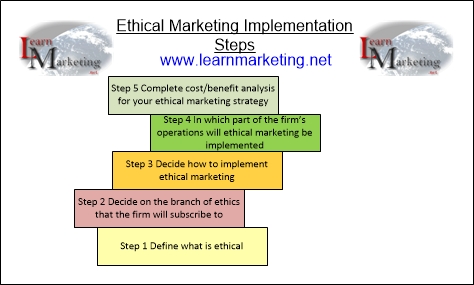 Examples Of Marketing Decisions Involving Ethics
Does the firm exaggerate the benefits of its products on packaging. Are claims overstated? Many firms make bold claims to help sell their products. Are such claims morally wrong or merely "advertising puff".
Is it morally wrong to adopt high pressurised sale techniques or to focus on vulnerable customer groups e.g. pensioners? On the other hand vulnerable customer groups have needs? Can you get such customers to buy without pressurised selling?
Firms need to make profits, a reduction in production costs increases profit margins. Is it morally wrong to negotiate tough contracts with suppliers to reduce production costs when it will reduce the supplier's profit margin?
Is it morally wrong to disregard the impact of business activities on the environment. To find out more about environmental marketing Click Here.