Force Field Analysis
Introduction
When firms are analysing whether to implement a course of action they will often weigh up the reasons for and against implementation. In 1951 Kurt Lewin developed a model that allowed managers to visualise these points. He called it the Force Field Analysis Model. The reasons "for" and "against" implementing decisions are known as forces.
The Diagram below shows an example Force Field Analysis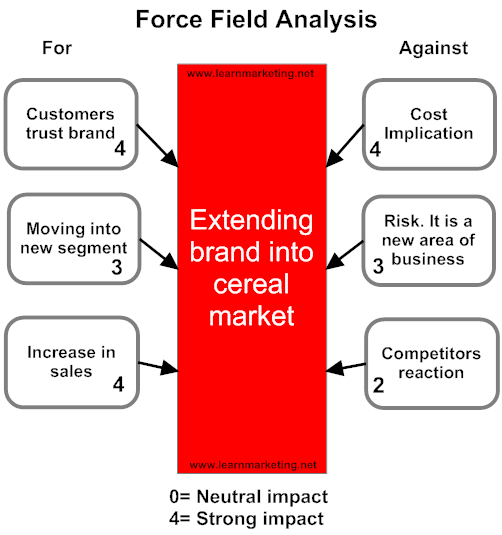 What Does Force Field Analysis Involve
The first step in carrying out a force field analysis, involves drawing up a list of reasons to follow a particular route; the driving forces and a list of reasons to not go down a particular route which are called the restraining forces.
Next allocate each of the forces a rating based on how strong (severe) that reason is. The Force Field force ratings run from 0 - 5 where 0 is a neutral force without an impact and 5 is a strong reason with a strong impact.
Finally add up the scores for the driving forces and add up the scores for the restraining forces so that you have an overall score for implementing a course of action and a score for not proceeding. The list with the highest score wins and that is the decision the firm should follow. If the difference between the total score for driving forces and restraining forces is small, you may need to conduct further research or review how the score for each force was allocated.