Hierarchy Of Effects Model
Introduction
The Hierarchy of Effects Model was created in 1961 by Robert J Lavidge and Gary A Steiner. This marketing communication model, suggests there are six steps from viewing a product advertisement (advert) to product purchase. The job of the advertiser is to encourage the customer to go through the six steps and purchase the product.
The diagram below shows the steps in The Hierarchy Of Effects Model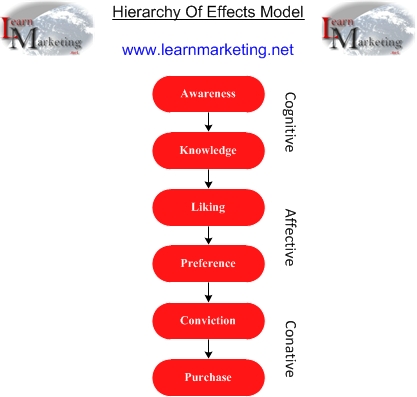 Awareness
The customer becomes aware of the product through advertising. This is a challenging step, there is no guarantee that the customer will be aware of the product brand after they view the advert. Customers see many adverts each day but will only remember the brand of a tiny fraction of products.
Knowledge
The customer begins to gain knowledge about the product for example through the internet, retail advisors and product packaging. In today's digital world this step has become more important as consumers expect to gather product knowledge at the click of a button. Consumers will quickly move to competitor brands if they do not get the information they want. The advertiser's job is to ensure product information is easily available.
Liking
As the title states, this step is about ensuring that the customer likes your product. As an advertiser what features can you promote to encourage the customer to like your product?