Internal Marketing
Introduction
Internal marketing is all about the relationship an employer forms with its employees. It is said that staff should be seen as internal customers and their needs should be met. A company that concentrates solely on customer service for external customers and ignores internal customer service will struggle.
The diagram below shows the components that internal marketing is aimed at.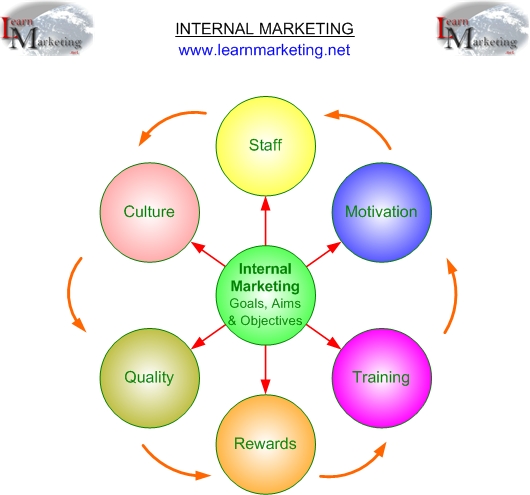 Why Does Internal Marketing Matter?
But why care about internal customers? This is quite simple to answer. Motivated staff will work harder and give your external customers a better service. This will help improve the firm's reputation, sales and market share over the long term.
Communication
A large part of internal marketing is good communication systems like the intranet and staff newsletters support communication. Whilst regular team meetings give employees the opportunity to voice their opinions and ideas. Staff briefings and discussions about the company's performance and plans help employees feel involved. Regularly cascading information across all levels of staff contributes towards encouraging staff to share the overall vision, goals and values of the firm.
Empower And Train Employees
Empowerment and giving staff responsibility is an important part of the internal marketing role. Staff who are given responsibility usually perform better for the firm as they try their best to help the firm reach their goals. If staff need to be trained to take on responsibility then the firm should be able to offer this to show that they are interested in them and their development.