Ladder Of Customer Loyalty
Introduction
Relationship marketing is about developing long term relationships with the customer. A company needs to be able to turn a one off sale into a fruitful long-term relationship. The aim of relationship marketing is to retain existing customers, as attracting new customers is six times more expensive than holding onto existing customers. The ladder of customer loyalty is about the different loyalty relationships customers have with businesses .There are five steps in the ladder of customer loyalty, each step represents one type of customer based on their loyalty to the business.
The diagram below shows the 5 steps involved in the Ladder Of Customer Loyalty.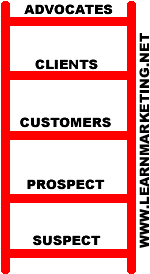 Suspect
A suspect is someone who comes across your company's promotion. They are a suspect for your company
Prospect
If the person is interested in your promotion they become a prospect. The climb up the ladder has begun, its marketing's job to give them a "helping hand" to get up the ladder.
Customers
A customer is someone who purchases either your product or service. This stage needs to go well to encourage customers to come back and buy from you.