Product Strategy
Product Mix, Product Lines And Product Stretching
Introduction
Businesses are continuously making critical decisions about their product range. Product decisions will include whether to develop new products and how to manage existing products. This article is about the different ways firms manage the type and number of products they sell and related terms i.e. product strategy and product objectives. The product strategy diagram below gets us started, by explaining how your product mix can be split into product lines.
The diagram below shows how the product mix can be divided into product lines and that each product line's width and depth is part of managing a firm's product mix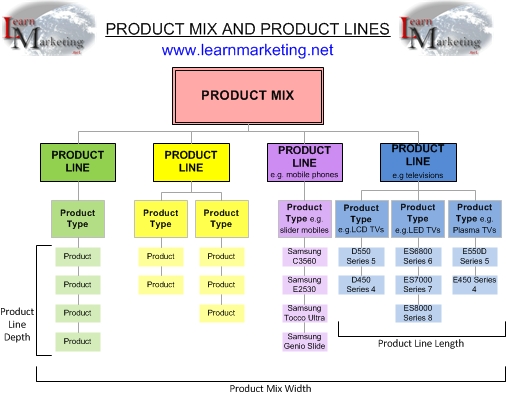 Product Mix (Product Portfolio or Product Assortment
The Product mix is the total number of different products a firm sells. Some firms will sell just one product, whilst others will sell a large number of different products. For example Samsung's product mix includes mobile phones, netbooks, tablets, televisions, fridges, microwaves, printers and memory cards. Firms should select their product mix carefully as they will need to generate a profit from each of the products in the product mix.
Product Line
Firms may decide to split their product mix into groups known as product lines. A product line is a number of products grouped together based on similar characteristics. The characteristic used to split products, will depend on the firm and its product strategy. They include product price, product quality, who the product is aimed at (target group), and product specification/features. For example Samsung's mobile phones are divided into product lines based on the following features; touch screens, slider/folders, QWERTY keyboards and bar phones. Product lines help firms manage their products as product strategy can be designed around product lines. This is useful if the firm has a large product mix as there is less need to concentrate on individual product type strategy.