Augmented Product Concept
(Three Levels Of A Product/Total Product Concept)
Introduction
In the book "Principles Of Marketing" Philip Kotler et al devised a very interesting concept of benefit building for products. Kotler suggested that if you view a product on three levels it will help you extract all the benefits that your product offers. This strategy has various names including Total Product Concept, Augmented Product and Three Levels Of a Product.
The diagram below shows the three levels that make up the total product concept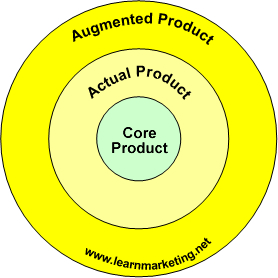 Level One: Core Product
Level one is the most basic level and simply looks at what people set out to buy and what benefits the producer would like their product to offer buyers. For example a camera is expected to take pictures but there may be other benefits that the producer wants the buyer to enjoy such as a wide lens, face recognition and high definition videos. So prior to designing any product designers should list the core benefits the product needs to provide.