New Product Developments
Why Develop New Products For Your Business Introduction
Every business needs to innovate to stay ahead of the competition. No business can continue to offer the same unchanged product; otherwise sales would decrease and profits reduced. In this article we will explore some of the reasons why a lack of product development can affect sales and profit.
The diagram below illustrates the reasons why firms develop new products.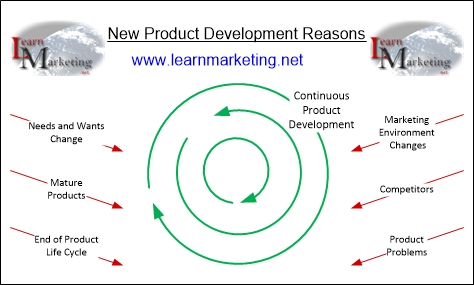 Consumer Needs and Wants Change
Consumer "needs and wants" continuously change. Firms should respond to these changes through their products and services. Otherwise consumers will switch to competitor products that satisfy their "needs and wants". For example consumers are becoming more health conscious, this is forcing companies to introduce low sugar, salt and fat products. Coca-Cola Zero which contains no sugar is a classic example of new product development even though Coca-Cola's existing product range already contained diet coke. Both diet coke and Coca-Cola Zero contain no sugar but they taste different.
Product Reaches The End Of Its Product Life Cycle
The product maybe at the end of its Product Life Cycle, so the company may introduce new and improved updated versions. Microsoft has done this by moving from the Xbox to the Xbox 360 and now Xbox 360 limited editions allow Microsoft to refresh the product through small changes.