The Marketing Mix
Pricing Strategies
Introduction
Pricing is one of the most important elements of the marketing mix, as it is the only mix, which generates a turnover for the organisation. The remaining 3p's are the variable cost for the organisation;
It costs to produce and design a product,
It costs to distribute a product and
It costs to promote it.
Price must support these elements of the mix. Pricing is difficult and must reflect supply and demand relationship. Pricing a product too high or too low could mean a loss of sales for the organisation.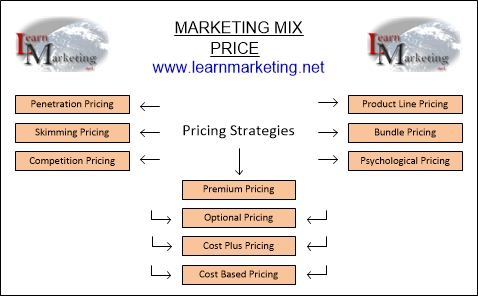 Types Of Pricing Strategies
| Pricing Strategy | Definition | Example |
| --- | --- | --- |
| Penetration Pricing | Here the organisation sets a low price to increase sales and market share. Once market share has been captured the firm may well then increase their price. | A television satellite company sets a low price to get subscribers then increases the price as their customer base increases. |
| Skimming Pricing | The organisation sets an initial high price and then slowly lowers the price to make the product available to a wider market. The objective is to skim profits of the market layer by layer. | A games console company reduces the price of their console over 5 years, charging a premium at launch and lowest price near the end of its life cycle. |
| Competition Pricing | Setting a price in comparison with competitors. In reality a firm has three options and these are to price lower, price the same or price higher than competitors. | Some firms offer a price matching service to match what their competitors are offering. Others will go further and refund back to the customer more money than the difference between their price and the competitor's price. |