The Marketing Mix and the 4P's
Product Price Place And Promotion
Introduction
To effectively market a product or service there are four things you need to get right: Product, Price, Place and Promotion. These four elements are known as the marketing mix or the 4Ps. The four marketing mix elements should be viewed as one unit and structured to support each other; Otherwise a firm's marketing strategy will be confusing and unco-ordinated. This article provides you with a quick introduction to each marketing mix element and provides links for further marketing mix information.
The diagram below shows the four factors which make up the marketing mix; product, price, place and promotion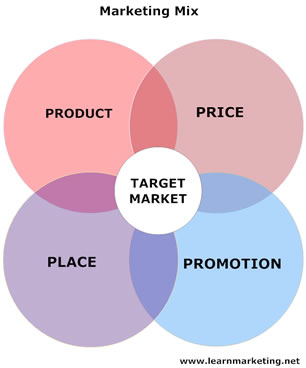 Marketing Mix Product Strategy
Product is part of the marketing mix because it is the item offered for sale so its features and design need careful consideration. Whether the firm is manufacturing the product or purchasing the product for resale, they need to determine what product features will appeal to their target market. When an organisation is considering introducing a product into a market, they should ask themselves the following questions:
Who is the product aimed at
What benefit will customers expect from it
What will be its advantage over competitor products? Or its unique selling point?
How does the firm plan to

Position

the product within the market?
The answers to these questions will help a firm design, package and add value to its products. Apple has an excellent marketing mix strategy in particular a very popular product strategy. Their products are carefully built, with well thought out design backed up with their iconic Apple logo.
To learn more about product strategies within the marketing mix click on the following link: Marketing Mix and Product strategies
To learn more about pricing (including example pricing strategies) click this link: Marketing Mix and Pricing Strategies