The Marketing Mix
Product Strategies
Introduction
When firms decide to market products there are many decisions to make; each decision can have a long term impact on the success of the product.
Market research at the beginning of the marketing process will help firms make many product decisions including Product Development, Target Market and Pricing.
In this article we cover common product decisions.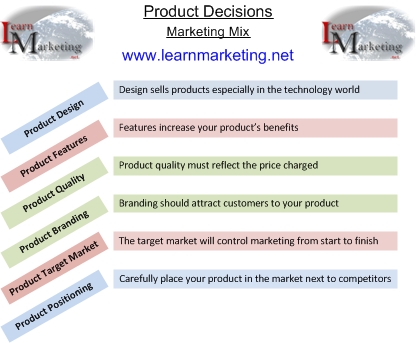 Product Design
The design of a product can often be the thing that sells it, as design is the easiest thing for consumers to identify. Product design is key in the technology sector; examples include the iPad, the new Volkswagen Beetle (1997 - 2011) and the Dyson Ball vacuum cleaner (pictured below). Product design will be dictated by your target market. For example bright colours may be chosen to attract children, pink and pastel colours for female adults and dark colours such as black, navy, charcoal for male adults. Whereas consumers above a certain age may prefer design features that make a product easier to use rather than a design which is purely about aesthetics.