New Product Development
Introduction
Improving and updating products is an ongoing task as consumer "needs and wants" continuously change. A failure to develop products could result in a reduction in sales if consumers decide to buy competitor products. Learn More about the reasons why firms should develop new products. The eight stages of new product development are captured in the diagram below.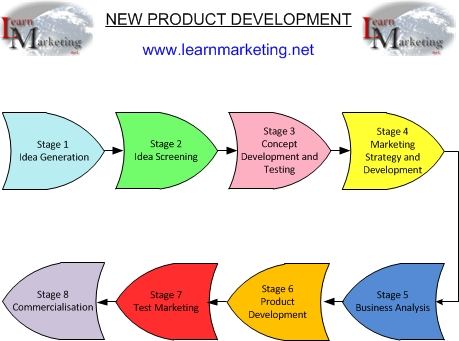 Stage 1: Idea Generation
New product ideas have to come from somewhere. But where do organisations get their ideas for NPD? Sources include:
Market Research
Employees
Consultants
Competitors
Customers
Distributors and Suppliers
Stage 2: Idea Screening
This process involves shifting through the ideas generated above and selecting ones which are feasible and practical to develop. Pursing impractical ideas is expensive and a waste of resources.
Stage 3: Concept Development and Testing
The organisation may have come across what they believe to be a feasible idea, however, the idea needs to be taken to the target audience. What do they think about the idea? Will it offer the benefit that the organisation hopes it will? or have they overlooked certain issues? Will there be a demand for the product? Note the idea taken to the target audience is not a working prototype at this stage, it is just a concept.