E Marketing Mix
Introduction
Traditionally the Marketing Mix is coordinated so efficient
product
price
promotion and
place
strategies are developed for products purchased in shops. The internet has changed the way we sell our products and services. That's a fact. Consumers use the internet to research and purchase products online, so firms need online strategies to attract and retain customers. The e-Marketing mix refreshes the marketing mix ready for the online market place.
The Diagram below shows the components of the e-marketing Mix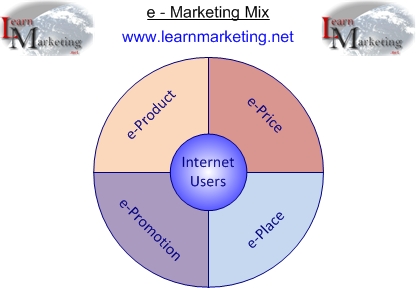 e-Product Strategies
We walk into a shop and see a product we like, we can assess it, touch it. Online, this immediate tangibility disappears. But, is that a disadvantage? Within the U.K. e-commerce sales are increasing at extremely high rates. Why? What does buying products online offer over one to one sales? Firstly there are clear online facts about the product you are purchasing. The buyer knows immediately about product features, the facts, not a sales persons assumptions.
The buying process is also customised for returning visitors, making repeat purchases easier. Organisations can also offer immediately ancillary products along with the main purchase. For example, the chance to buy extra printer cartridges along with your purchase of your printer online. The product can also be customised to consumers needs. www.nike.com offer customised trainers to users online. Users can design and see their trainers online before they order!
e-Price strategies
As mentioned in our Marketing Mix section, pricing is always difficult to do and must take into account many considerations. Traditionally pricing was about finding about your costs, discovering how much consumers are willing to pay, taking account competition pricing then setting your price. The internet has made pricing very competitive. Many costs i.e. store costs, staff cost have disappeared for complete online stores, placing price pressures on traditional retailers.
The internet gives consumers the power to shop around for the best deal at a click of a button. Website such www.kelkoo.com compare products from different websites informing consumers of where the best deal is. Such easy access to information helps to maintain prices within the online world. The growth of online auctions also helps consumers to dictate price. The online auction company www.ebay.com has grown in popularity with thousands of buyers and seller bidding daily. E-pricing can also easily reward loyal customers. Technology allows repeat visitors to be tracked, easily allowing loyalty incentives to be targeted towards them. Payment is also easy, Paypal, or online credit cards use allows for easy payments. However the downside to this is internet fraud, which is growing rapidly around the world.