International Marketing
Market Entry Methods
Introduction
There are a number ways businesses can sell their products in international markets. The most appropriate method will depend on the business, its products, the outcome of its Marketing Environment analysis and its Marketing Plan. This article talks you through market entry options for international marketing.
The diagram below captures 7 different ways to enter international marketing.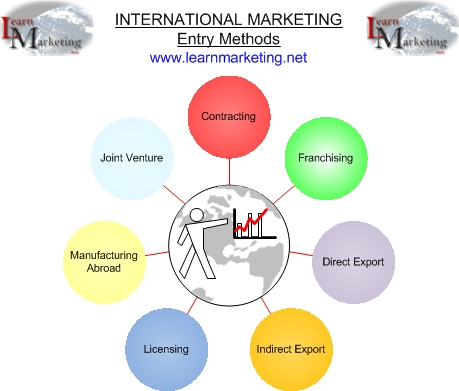 Direct Export
The organisation produces their product in their home market and then sells them to customers overseas.
Indirect Export
The organisations sells their product to a third party who then sells it on within the foreign market.
Licensing
Another less risky market entry method is licensing. Here the Licensor will grant an organisation in the foreign market a license to produce the product, use the brand name etc. in return that they will receive a royalty payment.
Franchising
Franchising is another form of licensing. Here the organisation puts together a package of the 'successful' ingredients that made them a success in their home market and then franchise this package to overseas investors. The Franchise holder may help out by providing training and marketing the services or product. McDonalds is a popular example of a Franchising option for expanding in international markets.