Marketing Plans
What is a Marketing Plan?
A marketing plan aims to support the strategy for a company and its products/services. Planning is essential in all organisations and company plans should be documented. Each department in a firm will usually have a plan detailing what their objectives are and how they plan to achieve them. All plans must support the overall corporate objectives of the organisation,irrespective of individual department aims.
Below is a diagram showing the outline of a marketing plan. The diagram also explains AOSTC the popular acronym used to write a marketing plan.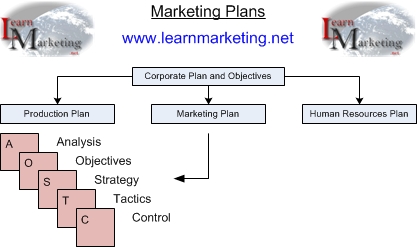 Outline of a Marketing Plan & AOSTC
A common method used to write a marketing plan is through the acronym called AOSTC. It simply stands for:
Analysis – Of your internal and external environment
Objectives – Set yourself SMART objectives
Strategies – Decide how will you achieve your objectives
Tactics – Plan what will you do to achieve your objectives
Control. – How you will monitor whether you are achieving your objectives.
Analysis
Every good marketing plans needs to analyse the current business situation and ask a simple question, where is the business now? This involves the business conducting an internal audit and external audit.
An internal audit will look at:
Past objectives and success rates
Past marketing mix strategies
Past budgets
Past segmentation, targeting and positioning strategies
The internal audit aims to look at what you did in the past, was it successful? If not why not? If it was successful why was it successful?
The external audit will involve:
Conducting a PEST analysis, and discussing the impact of this on your strategy
Researching the industry you operate in. What are the trends within the industry you operate in?
Competitor analysis. What are your competitors up to?
A SWOT analysis to help establish your current strengths, opportunities, weaknesses and threats.