What is Marketing?
Introduction
The term marketing has evolved over time, today marketing is more than promoting your product; it involves all activities from before you have developed your product through to after you have sold your product to the customer. This will allow you to develop products that satisfy customer wants and needs, secure custom and retain customers for the long term.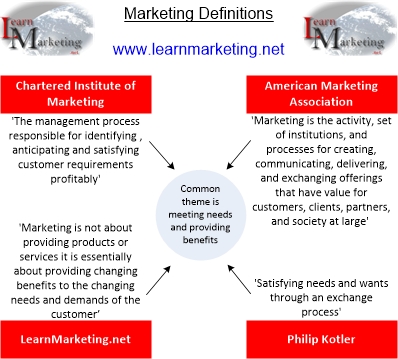 Marketing Definitions
UK based Chartered Institute of Marketing (CIM) defines marketing as:

'The management process responsible for identifying , anticipating and satisfying customer requirements profitably'
Whilst the American Marketing Association states:
'Marketing is the activity, set of institutions, and processes for creating, communicating, delivering, and exchanging offerings that have value for customers, clients, partners, and society at large'
(July 2013)
Marketing author and academic Philip Kotler defines marketing as:
'Satisfying needs and wants through an exchange process'
Customers will only undertake the exchange, if they feel that their needs are being satisfied, clearly the transactional value can not be more than the amount customers are prepared to pay to satisfy their need.
And P.Tailor of www.learnmarketing.net asserts that:
'Marketing is not about providing products or services it is essentially about providing changing benefits to the changing needs and demands of the customer' (P.Tailor 7/00)