Marketing Concepts And Orientations
Introduction
The concept of marketing has evolved over time. Whilst in today's business world "the customer is king". In the past this was not the case, some businesses put factors other than the customer first. This article examines factors that businesses may orientate their marketing around, so that you can recognise when your marketing strategy is orientated around something other than the customer.
Four of the common things that firms orientate their marketing around are captured in the marketing concepts diagram below.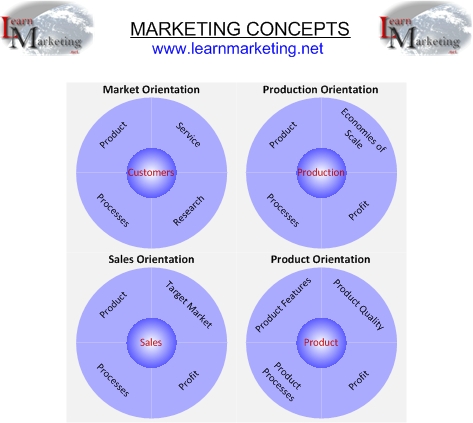 Production Orientation
The focus for the business is to reduce costs through mass production. A business orientated around production believes that the "economies of scale" generated by mass production will reduce costs and maximise profits. A production orientated business needs to avoid production efficiency processes which affect product design and quality. Compromising product design and quality for the sake of production is likely to reduce the product's appeal to customers.
Product Orientation
A product orientated company believes that its product's high quality and functional features make it a superior product. Such a company believes that if they have a superior product customers will automatically like it as well. The problem with this approach is that superiority alone does not sell products; superior products will not sell unless they satisfy consumer wants and needs.