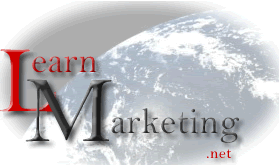 For Marketing Learners Globally
Home | Marketing Lessons | Marketing Excercises | Marketing Online Quiz | AVCE (UK) | BTEC National Marketing (UK) | Marketing Glossary | Student Notice Board | Marketing Lecturer Login | Marketing Powerpoints | Marketing Cliparts | Marketing Chatroom | Educational Links | Newsletter | Virtual Lectures | About Learn Marketing | Contact
---
Welcome to learnmarketing.net marketing chat forum. Here users of this site can talk to each other, swap ideas, links etc. Learnmarketing will also hold Q&A sessions at specified times which will be advertised on this site.
IMPORTANT CHAT RULES.
1. Never ever give out your telephone number or address to anyone over the chat room.
2. Never meet anyone from the chat room who you do not know.