WELCOME TO LEARNMARKETING.NET
LearnMarketing.net is a free marketing reference site for everyone interested in marketing. Our resources include articles about marketing theory, marketing PowerPoint presentations, marketing videos and fun quizzes. Let's discuss the resources available on LearnMarketing.net.
Click on the Marketing Theory link to access simple articles about the latest marketing theory and established principles such as the marketing mix and marketing research. Our articles include examples and a diagram to help you remember the topic.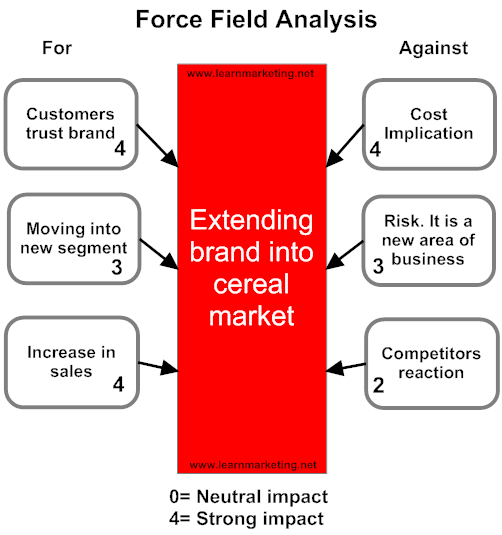 Pictured above is a diagram showing Kurt Lewin's Force Field Analysis
Popular Marketing Articles
Marketing Mix | Service (Extended 7Ps) Marketing Mix | Marketing Mix : Product | Marketing Mix : Price | Marketing Mix : Place | Marketing Mix : Promotion | Market Research and Marketing Research | Brand Strategy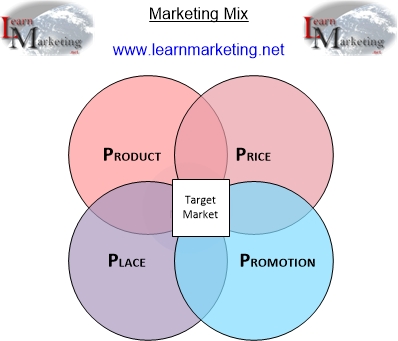 Pictured above is a diagram showing the Marketing Mix 4Ps product, price, place and promotion
In this section there is detailed guidance for BTEC Level 3 Business courses and HND Marketing Principles Units. There is also a link to the guidance documents provided by the exam board Edexcel. Edexcel documents include learning outcomes, grading and assessment criteria and delivery guidance for tutors.
If you use initiative and like to get involved with new ventures then you are an enterprising person or entrepreneur. Entrepreneurship takes place in many areas from technology and music through to cookery and broadcasting. Well know entrepreneurs and enterprising businesses include Virgin Group's Richard Branson, Retailer Philip Green, Google, Walt Disney, Oprah Winfrey, Microsoft's Bill Gates, celebrity chef Jamie Oliver and Apple's Steve Jobs. However you don't need to be famous to be an entrepreneur. To set up a new business and be entrepreneurial you have to take on a element of risk; you are risking your time and any assets that you choose to invest in the business. Read the rest of this article or scroll down to learn more about each section of LearnMarketing.net
LearnMarketing Lessons contain short worksheets to help reinforce learning from the topics you have read on LearnMarketing. net. The lessons are suitable for use in the classroom, teachers can print them out for their students to use.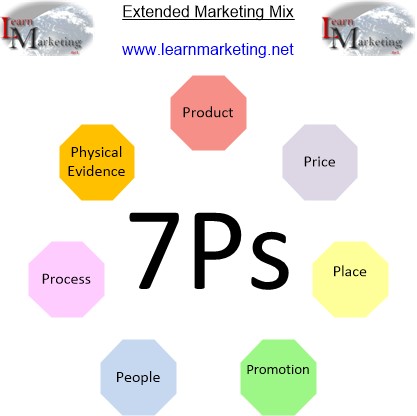 Pictured above is a diagram showing each of the 7Ps from the Service Marketing Mix. The service marketing mix is sometimes called the extended marketing mix because it has 3 more elements than the traditional Marketing Mix - People, Process, and Physical Evidence.
We have provided popular marketing material in French for marketing students and practitioners who would prefer to read in french. Click on the marketing theory tab and scroll down to the articles written in French.
Nous avons fourni du matériel de marketing populaire en français pour les étudiants en marketing et des praticiens qui préfèrent lire en français. Cliquez sur l'onglet de la théorie du marketing et faites défiler vers le bas pour les articles rédigés en français .
LearnMarketing quizzes are a fun way to test marketing knowledge. Click and discover how well you know your marketing. Topics include The Marketing Mix, Market Segmentation, Market Positioning and Marketing Research.
LearnMarketing has a range of PowerPoint Presentations which you can use by yourself or present to a group of people (e.g. students, employees and professionals). Topics covered include The Marketing Mix , Ansoff's Matrix , New Product Development , Market Segmentation , and Marketing Plans .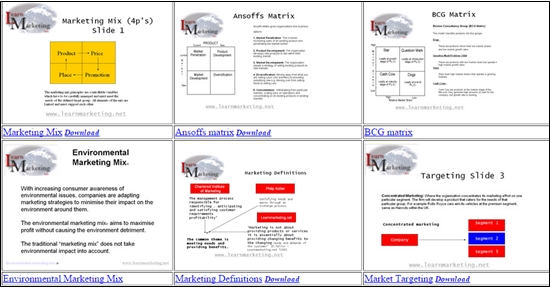 This section provides a useful A-Z glossary of marketing terms from AIDA through to Segmentation and Market Targeting Options.
Popular Marketing Lessons
Marketing Mix | Product Life Cycle | Marketing Plans | Marketing Tools and Models | Marketing Objectives | Service Marketing | Relationship Marketing | Internet Marketing | Segmentation |